1469 N Main St Mocksville , NC 27028
---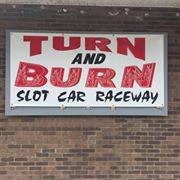 Two 8 Lane Tracks a King road course Nascar style
and a Tri Oval Nascar style Oval racing.
Weekly Racing Schedule
TURN AND BURN SLOT CAR SPEEDWAY
Tuesday, thru Saturday.
.
November 2018 schedule race start times.
Monday- Closed.
Tuesday- Nascar Modifieds on the Oval 7:30pm
Wednesday- 4″ Hawk 7 Nascar Stock Car on the King 7:00pm and 4″ Hawk 7 Nascar Trucks on the King 8:30pm
Thursday- Open Practice Night
Friday- 4″ Hawk 25 Nascar on the King 7:00pm and 4″ Hawk 25 Trucks on the Oval 8:30pm
Saturday- Nascar Hardbodies on the Oval at 4:30pm and Modifieds on the Oval at 7:00pm
Sunday- Closed.