Finger-clicking good: Autocar goes slot-car racing
You don't need a Bugatti to experience nearly 300mph, just some slot-car racing skills. We check out Scalextric for grown-ups
by John Evans
www.autocar.co.uk
July 13, 2019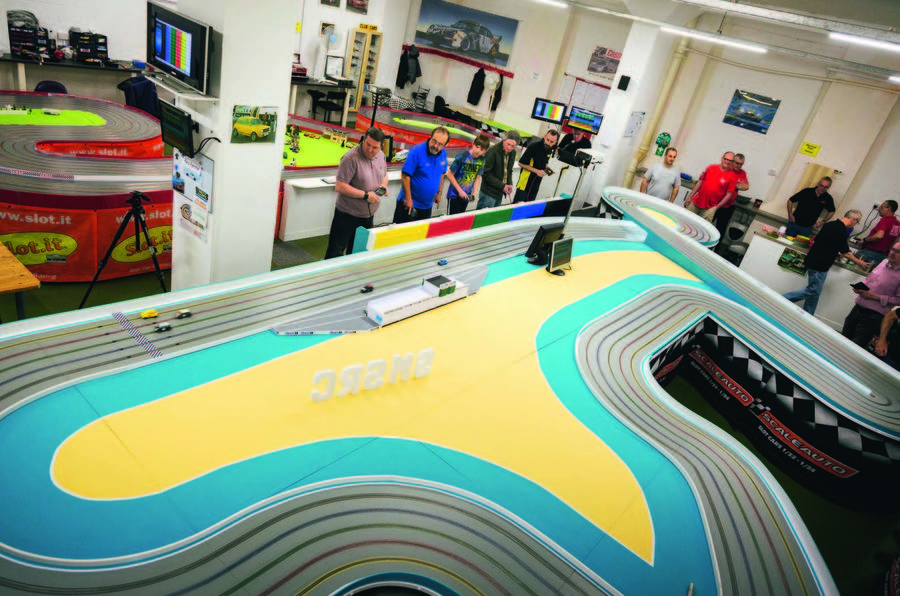 Scalextric on steroids, they call it, and once you've done a lap of the 110-foot, five-lane track with the 1:32-scale cars (seasoned 'drivers' do it in around 7.5sec at speeds equivalent to 290mph), you'll understand why.
'They' are members of the South Manchester Slot Racing Club in Stockport, located in an old mill whose tall, brick-built chimney miraculously escaped the attentions of Fred Dibnah and his sledgehammer. Tracking them down deep in the building's labyrinth of corridors isn't easy but is worth the effort, especially if you're coming for one of the club's taster evenings when they lend you a car and controller, and let you loose on their two large and sturdy tracks.
Forget kneeling on the carpet amid a tangle of control wires, reattaching sections of track or scrabbling over opponents to fish your car out from under the sofa. This is proper, grown-up, organised Scalextric – correction: slot-car racing – where you stand up, race cars on a rigid track and a team of marshals relocates your motor when it flies into the barrier. Depending on the class, some of the cars the club races are heavily modified Scalextric cars while others are made by, for example, Slot.it, a leading Italian manufacturer.
Russ Monkman, a member of the club, shows me two of his Scalextric-modified Mini Coopers and an unmodified one, for comparison. Turned over, it's obvious how different they are. The Scalextric model's large motor, which spins at around 18,000rpm, white plastic pinion gear, trailing wire and pick-up bushes are instantly familiar.
In contrast, Russ's other two Minis run compact Italian motors, one of them capable of spinning up to 22,500rpm and developing 230g/cm of torque, and the other 25,000rpm and 240g/cm. A third one in Russ's 'pit garage' can also spin to 22,500rpm but develops an almost uncontrollable 430g/cm of torque.
Another difference between his modified racers and the Scalextric car is the size of the crown wheel, or diff, which has 24 teeth. Also larger and longer is the pick-up guide that slots into the track. This is because, unlike Scalextric cars and the plastic track they use, the club's slot racers and wooden track are non-magnetic, while the cars themselves weigh just 90g. Like real racers, their tyres also play a crucial role in keeping the car pinned to the track, while the absence of magnets allows expert racers to drift their cars around the corners.
The undersides of the modified Scalextric cars are extremely well finished. Snug in the centre of each is the motor with not a single wire on show. This is the work of Angelo Amato, another club member. By day he's a whizz in computer-aided design, but as the sun falls he brings out his 3D printer…
Read full story with more photos here: