By Mia De Graaf
PUBLISHED: 28 December 2013
Historic: Diane Francis, widow of Scalextric inventor Freddie Francis, has unveiled the vintage set 56 years later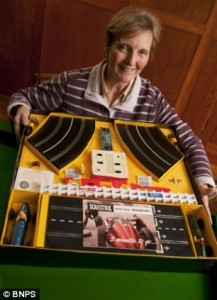 It may have started as a humble circuit of rubber strips, but that wouldn't stop Scalextric becoming a thing of dreams.
For generations, millions of children have routinely spread themselves onto the floor for hours on end to get the best track-side view of their miniature plastic cars in action.
Now, 56 years later, the inventor's family has unveiled the first ever set – completely untouched.
Read more: First ever Scalextric set from more than 50 years ago is given to inventor's grandchildren as a Christmas present