Scalextric adds another dimension to slot car racing with the revolutionary new ARC AIR Powerbase.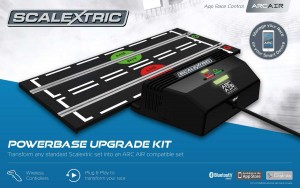 The ARC AIR Powerbase is designed to enhance your existing Scalextric track. With the vibrating wireless hand controllers you are free to roam around the track, and the ARC app allows you to add an interactive dimension to your racing.
State of the art game-play features presents drivers with the option of recreating adverse weather conditions and race incidents with the added ease of wireless controllers.
The controllers contain a rumble pack which alerts you to race features such as if your car needs to pit or the weather changes, plus a braking button for more control. Never miss a pit and customize throttle profiles to perfectly suit your hand controller to your racing style.
If you're unlucky enough to experience a race incident, make sure you get to the pits as soon as possible!
As if seven race modes (such as drag racing, tournament and endurance) weren't enough, ARC AIR has a brand new race mode – Arcade. A fun and fast race mode. Pick up powerups to influence your opponent's race, slowing them to a crawl. Time it right though and you can grab some invincibility to carry on racing at top speed.
Choose whether to the let the weather influence your race. Racing conditions might worsen or improve and you have to make sure you have the correct tires. Visit the pits quickly to avoid tire blowouts.
Fine-tune and customize the acceleration characteristics of your car by selecting from 5 pre-configured acceleration profile graphs. Combined with the added ability to limit the maximum power, you can completely customize your own hand throttle characteristics to suit your particular racing style.
Calibrate your car with the free downloadable ARC app to take full advantage of the race events. Track and personalize your laps and race times, as well as fuel and tire information and then share your race statistics with friends on social media.
Choose to upgrade your existing Scalextric track with an ARC AIR powerbase priced $109.99. More info, & Available to pre-order from www.scalextric.com.
Scalextric ARC AIR – Unboxed and Tested (C8434) – Video by FamilyGamerTV
Enter to Win a Scalextric Supercars Race Set!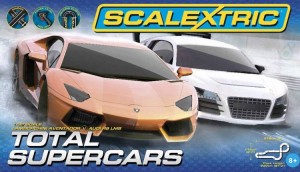 To celebrate the upcoming release of the ARC AIR Powerbase, Scalextric is giving away a Scalextric Total Supercars Race Set!
This is an exclusive offer for Old Weird Herald readers! Just fill in the form at the right and Submit to enter the contest.
One lucky OWH Reader will win a Scalextric Total Supercars Race Set – retail value $179!
1:32 Scale Lamborghini Aventador vs Audi R8 LMS
With over 21 ft of track, & can be easily expanded with Scalextric expansion track & accessories.
Terms and Conditions
By entering the competition, you are consenting to receive email communications from Scalextric. You can unsubscribe from these communications at any time.
Prize package can only be despatched to a USA address.
Closing date for entries is

11.59am

on

22nd April 2016

, any entries received after the closing date will not be accepted.
The Promoter takes no responsibility for entries which are not received.
The prize promotion is not open to employees of Scalextric or of any subsidiary or associated company of Scalextric or to employees' family members.
Any entries submitted by agents or third parties will be invalid and will not be accepted by the Promoter
The Promoter reserves the right to substitute the prize for one of equal or greater value at any time
The winner will be chosen at random.
The prize is not transferable and there is no cash alternative.
Losing entries will not receive any notification.
Prizes will be sent

within 14 days

of the competition ending.
The decision of the Promoter is final and binding and no correspondence will be entered into regarding the outcome of the prize promotion.
Entry constitutes acceptance of these terms and conditions.
No purchase necessary