June 9, 2014
SME's RAPID conference June 9-12, 2014 will showcase the newest additive manufacturing (AM) technologies and applications. The conference will also include the 3D Printed Slot Car Championship, sponsored by Materialise, which provides an opportunity for contestants to interact and compete.
We connected with Bryan Crutchfield, Managing Director at Materialise to learn about the car challenge and other areas of interest in an exclusive AMazing® Q&A session.
———————————————
AMazing®: Bryan, thank you for your participation. The upcoming 3D Printed Slot Car Championship sounds fun and exciting. With a field of over 35 racers, there must be some amazing entries. By definition, what is a slot car? What is the basic idea behind the 3D Printed Slot Car Championship?
Bryan Crutchfield:  A slot car is a powered miniature auto or other vehicle that is guided by a groove or slot in the track on which it runs. When we found out that RAPID was coming to Detroit, we really wanted to do something around the automotive industry. So we thought the best way to showcase 3D printing and the Motor City was with slot cars. And so, the 3D Printed Slot Car Championship was born.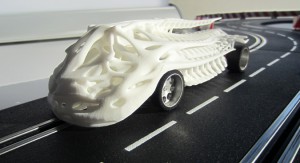 AMazing®: As we understand, the bulk of the car must be additively manufactured with exception to the chassis, motor, axles and wheels. Typically, which additive manufacturing technologies and materials do most contestants prefer?
Bryan Crutchfield: Contestants used a wide variety of AM technologies to build their slot cars including stereolithography, fused deposition modeling, direct metal laser sintering and selective laser sintering. The materials used for printing ranged from plastic to aluminum. One slot car was printed in magnesium and another was printed using three materials simultaneously. Once contestants had their designs complete, they used Materialise Magics software to optimize the slot car for 3D printing. This helped ensure a successful build.
AMazing®: Within the challenge, there are several Slot Car Champion categories including: Fastest Car, Best Design and Most Original. Which category is your favorite and why? Do you have any pre-event favorites that conference attendees should consider a 'must see'?
Bryan Crutchfield: We got a sneak peak at many of the cars and they are quite impressive. From a 2015 Ford Mustang to an old style pickup truck. We've also heard that there will be an ice cream truck that plays music and a row boat!  I think the most innovative use of 3D printing will steal the show in terms of looks but everyone wants to see which car is the fastest. We have also added a Crowd Favorite category to get the audience in on the action. The contestants have done some AMazing finishing work with their cars.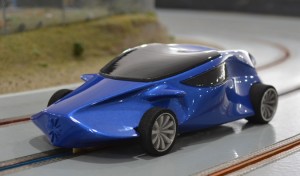 AMazing®: Beyond the fun and excitement that the event provides, what lessons do you feel designers and students learn from participating in the Slot Car Championship? What message does the Slot Car Championship demonstrate about additive manufacturing?
Bryan Crutchfield: Designers and students were able to explore the benefits of 3D printing with this contest. They started with a file of the chassis and the rest was up to them and what they would dream up. Our goal was to put the potential of AM in the spotlight, and showcase how it can benefit design, both functionally and aesthetically. And I think our contestants did just this.
See full article here: An AMazing® Exclusive Q&A Session with Bryan Crutchfield, Managing Director, Materialise