1235 PIERRE WAY EL CAJON, CA 92021
---
Owner(s): MICHAEL TUCKER
Hours: RACES ON THUR AND FRI, USUALLY OPEN ON SAT. OPEN AT 3:30 PM, CALL FIRST
Track Description: 117 FOOT FLAT TRACK, 8 LANES, 7 TURNS, 5 LEFT, 2 RIGHT, 2 SHALLOW BANKS, 25 FOOT MAIN STRAIGHT.
Remarks: RUN AS A CLUB TRACK, VISITORS WELCOME. LOCATED IN A WAREHOUSE, A LITTLE HARD TO FIND AT FIRST, CALL FOR DIRECTIONS.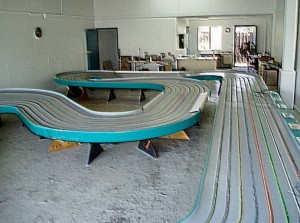 We are coming up on our fourth year of operation and thing are going well. We have races on Thursday and Friday nights and Test and Tune on Saturdays.