TRIBLIVE | Neighborhoods
By Joanne Barron
Published:
Tuesday, May 21, 2013, 6:59 p.m.
Updated 12 hours ago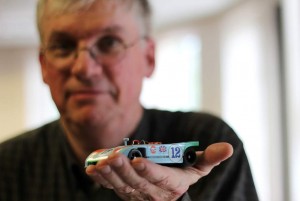 John Stupp got his first car when he was a child in the 1950s.
Today, he has many more that he keeps in his basement, although some now are displayed in Sewickley Public Library's latest exhibit, "The Toys of Grown-Up Boys," which runs through June 30.
Stupp of Sewickley, whose wife Betty Stupp is the children's clerk at the library, has contributed his collection of miniature model cars, replicas of vehicles driven at the Targa Florio, an Italian auto race, in the 1950s, 1960s and 1970s, to the exhibit.
His "toys" are one of six collections displayed at the library during regular library hours.
His miniature vehicles, called slot cars, come in several sizes, are powered by an electric motor and can be driven around a track that has a slot cut into it.
Read more :  Sewickley library exhibit celebrates the child inside grown men