by Chris Roberts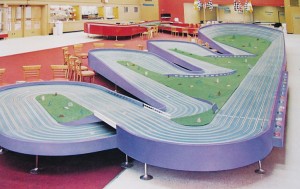 Among the lost landmarks of San Francisco, Playland at the Beach tops the list for many. Unlike the Sutro Baths or previous iterations of the Cliff House, many living people still remember going to the beachfront amusement park at The City's western edge — a fond nugget of nostalgia for boomers of a certain age.
Some of Playland still survives. Memorabilia of the park — which closed in 1972 — is visible today in El Cerrito at Playland-Not-at-the-Beach. And a part of Playland — about 220 feet of it — has resurfaced across the country.
That's the new home of the legendary Sovereign 220, the largest slot-car track ever built, which was installed in The City in 1965 and then lost to time for about 40 years before its rediscovery in rural Texas. Now Ashland, Mass., is the home of Modelville Raceway, from where the track's proud new owner tells his story.
See full article here: Long-lost Playland at the Beach relic resurfaces in Massachusetts