The Marlborough Express
 by ANNA WILLIAMS
A Blenheim man was gutted when he discovered his clubrooms had been spraypainted by vandals.
On Monday morning, Marlborough Slot Car Club member Nigel Boyce arrived at the clubrooms, at A&P Showground in Maxwell Rd, to find the building had been broken into and the interior tagged.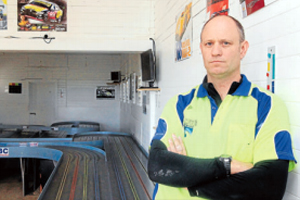 It was one of more than 40 properties in Blenheim tagged in the past three weeks. Buildings, fences, telephone boxes and a utility vehicle have also been hit.
The offenders kicked in the front door of the clubrooms, breaking the lock, and stole about 12 cans of spraypaint. They tagged the walls, the slot car track, electrical sockets, computer screens, floors and benches. Nothing was stolen besides from the spraypaint, Boyce said.
It took three men about four hours to clean up the mess.
"This is our hobby, our sport," Boyce said. "It's just mindless vandalism."
The club has about 12 members ranging from 11 to 70 in age, and is affiliated to the New Zealand Slot Car Association.
The break-in felt like a home invasion, he said.
"We're a low-budget community club, we're just ticking along. "Things like this are just gutting."
Marlborough District Council reserves and amenities officer Robert Hutchinson said 21 incidents of graffiti had been reported to the council this month, while four incidents were reported last month.
Police were investigating the increased number of tagging incidents and ask anyone with information to contact them on 03 578 5279 or call Crimestoppers, anonymously, on 0800 555 111.
Original article here: Tagging 'mindless vandalism'
Update – 29/07/2014
Blenheim police have made more arrests in relation to a spate of tagging in the town.
More than 40 properties in the town have been tagged in the past three weeks, including buildings, fences, telephone boxes and a utility vehicle.
A 19-year-old man was charged with wilful damage in relation to graffiti that appeared above an electrical store in May.
A 16-year-old boy has been charged with burglary and wilful damage in relation to a break in and graffiti at the A & P Park, and has also been charged with wilful damage in relation to other graffiti.
A 17-year-old Blenheim youth was the first arrested, and charged in relation to tagging in the town. He was to appear in the Blenheim District Court yesterday charged with wilful damage.
Marlborough police area commander Inspector Simon Feltham said the three arrests in the last two days came as the result of some intensive investigations in recent weeks.
Updated story here: