JUL 2, 2014 | Stuart, Virginia
By Team Ford Racing Correspondent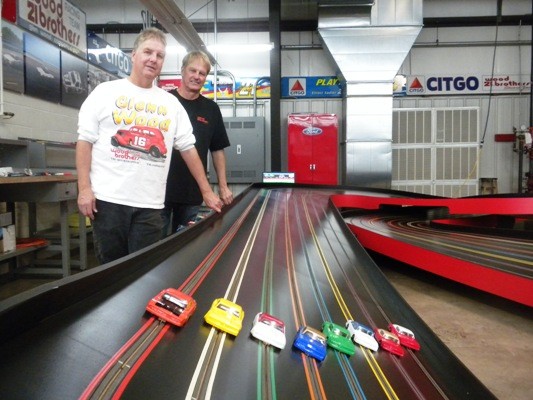 It isn't called Wood Brothers International Speedway, but it might as well be.
The track is fast — a crisp lap is under four seconds. Speeds often soar to 20 miles per hour.
Welcome to the second most important form of racing that occurs at the Wood Brothers shop in this small southern Virginia town. It's slot-car competition — something old that's new again.
Brothers Eddie and Len Wood — principal operators of the team started more than 60 years ago by their father, Glen — ordered the commercial-size track last year and now can stage races with eight-car fields in the climate-controlled atmosphere of their shop. The team's headquarters is located near Charlotte Motor Speedway in North Carolina, but the Woods retain a competition and business presence in their hometown of Stuart, where they also live. The Stuart shop also houses the team's museum.
The slot-car track was built by husband and wife Ed and Karol Tunkel of Philadelphia, Tenn. The Tunkels build and sell numerous designs of full-scale slot tracks.
Slot-car racing was a big hit in the 1960s, as popular then as computer racing is now. Slot-car centers opened across the country — many in small strip malls, and drivers could rent time (and cars) to run their own races on the tracks or participate in center-sponsored events that awarded trophies and other prizes.
The sport's popularity faded in the 1970s, and many of the estimated 5,000 slot centers across the country closed. Although a few hundred centers remain active in the U.S., the sport now has a more engaged following in Europe.
Count Eddie and Len Wood among those who enjoyed slot-car racing in the 1960s. It came naturally as they grew up in the NASCAR shop operated by their father and uncles. When the slot-car fad hit, they were more than ready. Several slot-car centers opened near Stuart in the mid-1960s, and Eddie, then 13, was in the groove — or, more appropriately, the slot — quickly. Len, four years his junior, followed.
Eddie and a pal, Bob Pugh, even competed in a 24-hour race at a track in Collinsville, Va., near Stuart. They "drove" in two-hour shifts, finishing seventh in the eight-car field after crashing numerous times.
As in most other forms of racing, part of the problem was occasionally being overly creative.
"I made my rear tire tread width three and one-eighths inch," Wood said. "The rule was three inches, but I thought a little wider would help. But it made the car just wide enough so that it would hit the tire on another car when they were side by side, and my car would flip. I bent every three-inch axle that I had and all that the track had — 18 of them. When that race was over, I had torn up everything I had."
When the slot-car fad faded, the young Wood brothers got busy with other things, including responsibilities at the race shop. They also discovered girls. Slot cars crashed and burned.
"But we didn't forget about it," Eddie said. "We didn't really get it out of our system. We talked about getting one for years, looked around on eBay and other places. Really didn't see what we wanted."
Then they discovered the Tunkels, who build slot-car tracks for road course, oval and drag racing for both commercial and private use. The order was placed, and a few months and several thousand dollars later, the Woods had an in-shop track. It has eight lanes, a high-banked turn, a loop with a bridge and a computer that counts laps and measures lap times. The 100-foot track's borders are painted red — in line with the color the racing team has used for decades, and it sits almost unobtrusively in one corner of the shop, under photos and other memorabilia of the No. 21's storied history.
Read full article here: Wood Brothers Are Serious About Slot-Car Racing