PLAINVILLE — To the state's dedicated handful of slot car racing enthusiasts, Plainville has become a sort of mecca.
They pack into Rapid Raceways on Woodford Avenue every Friday night, racing handmade cars on eight-slot tracks. The hobby, which peaked in popularity in the 1950s and '60s, attracts people of all ages.
"This is the last place in Connecticut that does weekly racing," said Rich Goucher, a Bristol resident who races several times a week.
He was among a small group that held a swap meet and tag sale at the center Sunday.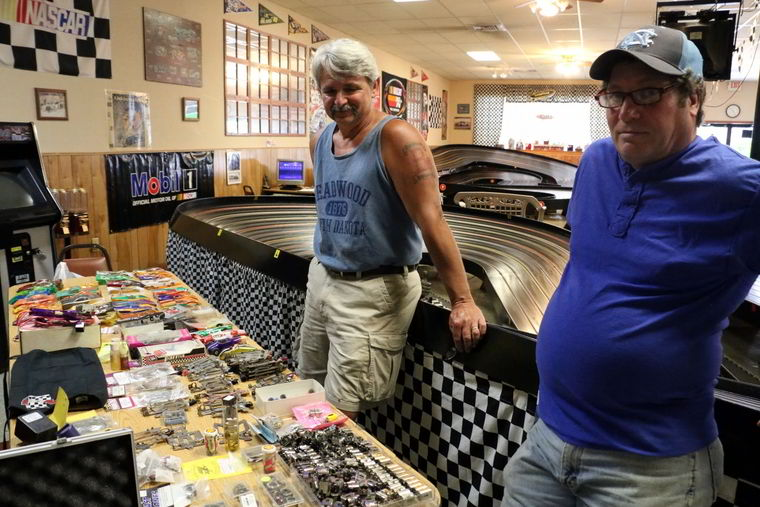 According to owner Dawn Raducha, what had been the state's only other remaining raceway, in Vernon, has closed. Some might think she'd be content with all the business, but she'd actually love a little competition.
"It would help if there were more tracks around so we'd have more people to race against," she explained.
Raducha learned about slot cars from her brother Ricky before opening her doors 12 years ago. In the time since, the center has hosted many birthday parties, weekly events, even outings for nearby companies such as General Electric.
Visitors can rent times from 15 minutes to several hours. At least once a month, there is a special all-day event.
"We have the cars and controllers available for people who don't have their own stuff," said Raducha, who welcomes anyone into the center, including those who are new to the past.
Eight cars can race at the same time. The trick is to keep your car in its slot using a hand-powered controller, while negotiating the track as quickly as possible. Volunteer "marshals" surround the track, picking up stray cars and returning them to their slots.
"A lot of people don't even know this exists," said Torrington resident Gary Clinton, who races a few times a week.
"I'm 39 and I've been doing this since I was 12," he added.
Read full article here: Welcome to Plainville, Connecticut's mecca of slot car racing