WFAA-TV News 8's Alisha Ebrahimji takes you on a short tour of Dallas Slot Cars – Dallas' only slot car racing track.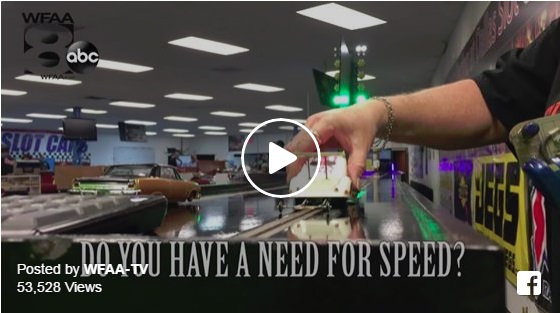 In Garland, you won't be alone. That's where you'll find North Texas' only slot car arena.
Don't know what a slot car is? That's okay…I didn't either until I stepped foot through their door– and trust me, you'll be glad you did if racing is your cup of tea.
Slot cars are miniature replicas of larger race cars you may see on the race track from time to time. With extreme attention to detail the cars you see are in immaculate condition before they hit a guided grooved track.
If you can think it, you can build it.
 Owner, Jay Howard says they really wanted to create an environment where the entire family was welcome and that's exactly what you'll see after a visit to Dallas Slot Cars.
From casual racing to serious competitions, you'll find it all in Garland.
"We mean business when we get on the track, we're competitors," Howard said. "But off the tracks, we're all so friendly with one another."
Howard says all skill levels are welcome and there's always someone working on their cars to lend a helping hand.
Interested in drag racing, keep up with the group on Facebook here. Interested in slot racing, there's a group for that too.
Did you know, Dallas is a series that explores hidden gems in the Dallas Fort Worth metroplex. Know a cool place that needs to be featured? Email me: aebrahimji@wfaa.com
Original article here:Did you know, Dallas: Dallas Slot Cars