Herald Sun

By JANE RANKIN REID
September 19, 2015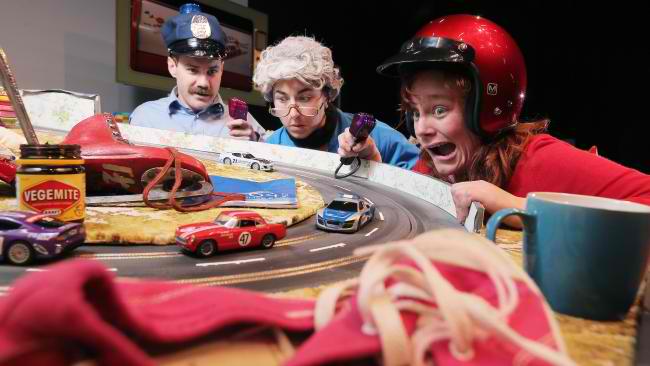 Tasmanian Theater: Puppet Show with Slot Cars?
Hobart's Terrapin Puppet Theatre's production of "Red Racing Hood" in Tasmania. In an eclectic ensemble of retro toys, slot cars, nostalgic props, and puppetry, the slot car track plays a central pivotal role in the play.
"Created by seasoned designer Jill Munro, the Red Racing Hood set creates a delightful world that intrigues adults and children alike. The racetrack stage plays a central role in transporting the audience through the story. Staged on an innovatively devised raked stage floor pitched slightly above eye level, a slot car racetrack runs through the set's landscape of domestic props.
Monro and Routledge confess to a boyish fascination with the world of slot cars and scale electrics that feature in Red Racing Hood.
Routlege exploits the ironic scale of human actors performing amid the puppets, retro toys and domestic props. Puppeteers' hands poke through the stage floor openings to correct the diminutive slot cars when they slide off the track, while the mess of everyday household objects "act" as props, as though the play was created in a children's playroom or on top of an untidy kitchen counter."
Read full article here: TasWeekend: Tassie's puppet masters