Nice article in the Estes Park Trail Gazette about Rainbow Curve Raceway in Estes Park, Colorado, and it's new owners. – Paul K @OWH
Trail-Gazette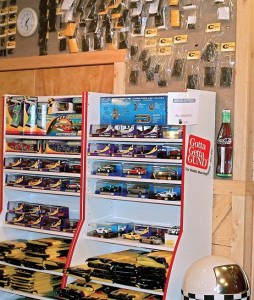 Are you a race car enthusiast? You probably didn't know about a little hidden secret located in the bottom of the Estes Ark. There's a "blast from the past" waiting to be discovered by locals and visitors. Rainbow Curve slot car racing is alive and well.
Designed after the 1960s-style slot car racing by Steve Swickard, the original owner of The Estes Ark who built the racing track for his personal use.
"When we bought the Ark and discovered the race track, we knew that this was going to be a great asset to The Ark," said Jesse LaBore, son of Estes Ark owners Penny and Brian LeBore.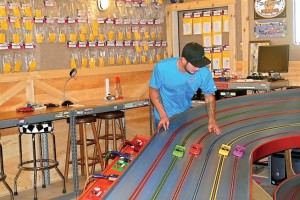 "We knew how well-built and thought out the Ark was when Mr. Swickard built it. The slot car racing track is equally as well-built and thought out," Brian said. "It's an amazing track that can hold up to standards from anywhere."
Jesse hopes to introduce and build the slot car business and competition here in Estes Park.
"It's a great indoor activity for kids and adults. We've had grandparents, dads, moms and parents already come to race," Jesse said. "It can get really competitive."
Rainbow Curve has everything you need to build your own slot car or customers can rent a car for their racing event. The LeBore family hopes to see the Rainbow Curve slot car develop into competitive leagues, competitions and parties.
Patrons can rent a car and/or the entire track to race for a few minutes, an hour or for an entire evening event.
"We are happy to let anyone race at any time," Jesse added. "And parties will be great!"
Read full article here: Rainbow Curve hopes to bring out kid in everyone