by Stex Auer for Zot4Slot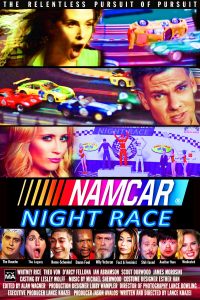 NAMCAR Night Race is a "surreality show" about a league of slot car racers created by Lance Khazei, director, writer, producer and slot car enthusiast. Lance has behind him numerous credits in television and feature film and an Emmy nomination, the most prestigious TV award at the international level. The pilot film for NAMCAR was produced through Lance's company Space Age Entertainment.
The satire, irreverence and humor of NAMCAR Night Race is stand out. Lance Khazei has created an imaginative, original comedy and a show type we have never quite seen before. NAMCAR taps the slot car hobby for a racing competition, sharp references to pop culture and entertainment and the exquisitely honest irony of watching adults experience conflict over fun and games and model car racing.
Slot car and auto racing enthusiasts worldwide have taken notice. Information on the show has popped up in slot car racing forums across the United States, Europe and Canada. On Facebook, the show has fans in over forty countries and the NAMCAR trailer has garnered over five hundred shares and amassed over a half million views.
Thank you to Lance for providing us this interview, the result of a collaboration that only the Internet could allow. We are pen pals through Facebook and have been able to dialogue between our two continents as if we are attending the same slot car club. The next time Lance comes back to Italy, I hope to meet him.
Enjoy.
1. Tell us how you got the idea of making a comedy about slot car racing.
It's a creative area I've been thinking about, on and off, for more than a decade since I set up a feature film at New Line. The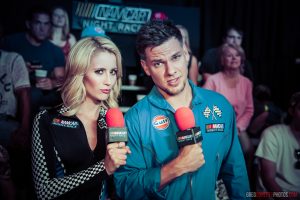 protagonist of that story was a man child and, originally, I considered making him a slot car enthusiast to reveal character. But the more I reconnected with slot car racing, the more I realized the subculture was a rich creative area of its own. Something highly unusual was happening in the hobby. Slot car racing was making a comeback, worldwide, not among children but among adults. The deeper I ventured into the subculture, the more the idea of attempting a documentary or a reality show came to mind. But reality programming has been done to death for more than two decades. Isn't it time we take the piss out of the genre in the same way that "Spinal Tap" and "Best in Show" define landmark mockumentary comedies? That's the spirit in which I set out to create NAMCAR Night Race.
In NAMCAR, there's a model car race at the heart of the show, a mock sports presentation with reality genre satire. And I created a structure that gives way to more and more bits of surrealistic comedy, inspired by the mind bending nature of this hobby's small scale and the inescapable reality that we're watching adult's engrossed in child's play. So, I like to call NAMCAR Night Race a surreality show. Like the WWE, NAMCAR can be considered a sports entertainment league. But instead of all the steroidal melodrama that wraps around each WWE 1 wrestling match, NAMCAR features absurdist comedy. We take the central situation of adults who take the toy experience seriously and push it to comical extremes.
2. Do you think it will appeal to the general public?
You never know if what you are creating will appeal to the general public. But there's something here for both racing fans and fans of ludicrous and irreverent late night comedy. This is an after hours racing league and I wanted the humor to have an after hours vibe. The performance of the NAMCAR trailer on Facebook has shattered our expectations. So that's a small but promising sign.
3. You've written for some comedy legends and outstanding character actors — Robin Williams, Bill Maher, Chevy Chase, Alan Cumming, John Leguizamo. What was it like working with so many fresh faces on NAMCAR? How did you choose your actors? Tell us about them.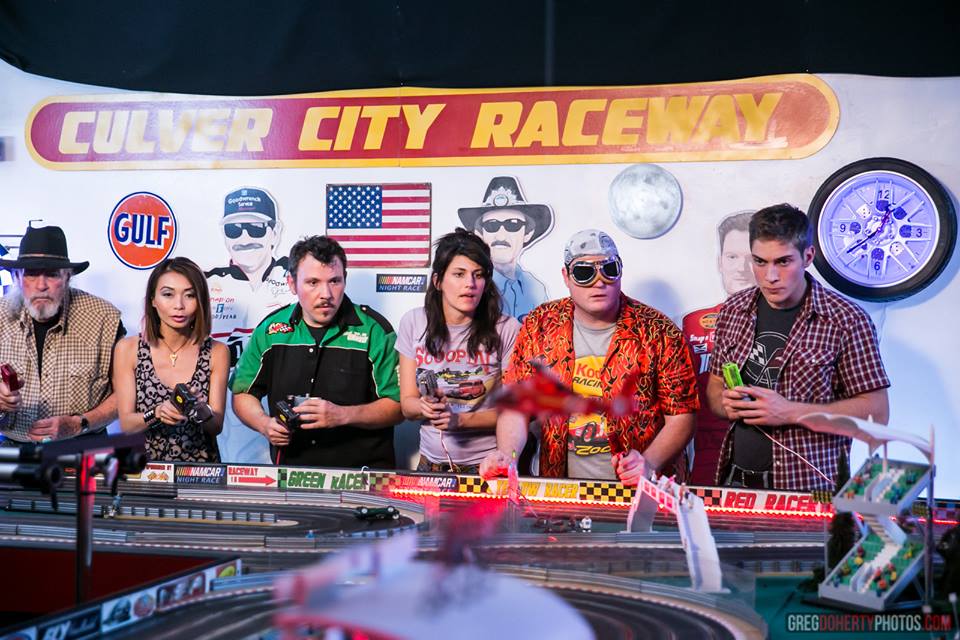 Since NAMCAR Night Race was a low budget, independent, almost out of necessity, I spent six months casting looking for diamonds in the rough and needles in a haystack. I wanted to find up and coming talent that would be attracted to the idea of making a fresh show for the sake of doing something daring and new, not for the paycheck. So I brought in a casting director, Lesley Wolff, who did an incredible job helping me to cast a digital pilot that I wrote and directed for FOX. And my co-producer, Jason Avalos pitched in helping to cast a wide net. And I refused to cast each role until we found an outstanding actor or comedian at every level of this show. They're an inspired group and many of them genuinely have the potential of those more established names you mentioned.
I believe we gave Ian Abramson, an alternative comic, his first audition in Los Angeles. The inventiveness of his stand up acts reminds me of Steve Martin. Ian portrays a NAMCAR racer and, after the shoot, he was named the best up and coming comic by LA Weekly. In searching for our Pit Girl, who is a sidekick of sorts to our show hosts, I came across Whitney Rice who has a notable collection of daring and smart comic videos on youtube. I became lost in them for an hour and reached out to Whitney. She does a hysterical job of skewering misogyny and that became the basis for NAMCAR's Pit Girl. Another cast member of ours, Colby Lemaster, pitched me the notion of his racer character in his audition. I like to think of NAMCAR (which stands for the National Association of Model Car Auto Racing) as a 'NASCAR on acid.' But it wasn't clear what that meant for the relationship between our hosts until D'Arcy Fellona and Theo Von, of Netflix's "Theo Von: No Offense," auditioned for and breathed comic life into the roles. D'Arcy brought an amusing officiousness to the part and Theo's comic charisma is so strong it gave me confidence I could go out on a limb with him and he would deliver. Scout Durwood, star of MTV's "Mary + Jane," gave me an audition so filled with bursting talent that I created a racer for her — "Scout."
4. Was the creation of your characters inspired by real people? In Europe, slot car enthusiasts are so serious and above all much older.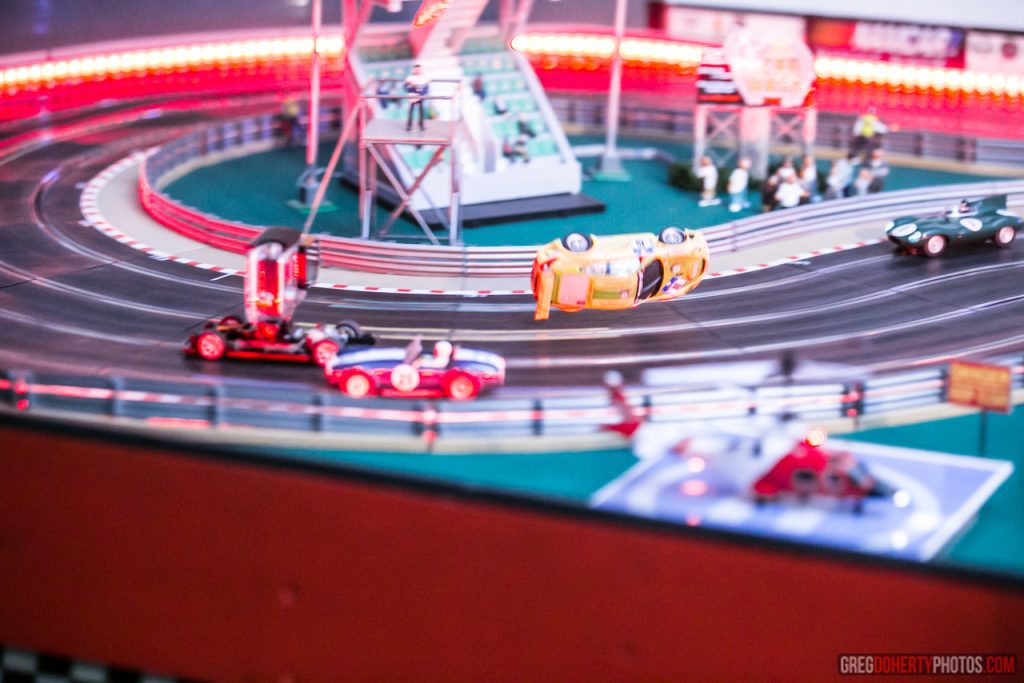 The seriousness with which slot car racers take to the toy experience is the underlying premise of this comedy. As you know, I dig the hobby, myself, but it's inherently funny to see adults take toys seriously. My comic sensibilities lean towards the absurd more than the real, but I am familiar with the world of slot car racing and I interviewed several slot car racers in creating the show. The protagonist, portrayed by James Morosini, reflects the attitude you experience with real slot car racers which is… don't let anyone tell you this is a toy. The reason why we feel this way is not simply because it is a sophisticated toy which requires finely tuned model cars. It's also a blast at any age, and we don't want the buzzkill. And, yet, it's funny to see grown adults becoming rankled over little cars.
Our veteran slot racer "Fast Eddy" was inspired by the real Fast Eddy at Big Lou's Culver City Raceway which is where we shot the show. Fast Eddy is portrayed by Robert Woods, a veteran actor with a long list of spaghetti westerns to his credit and a wonderful sense of humor. You see several real to life motorcycle racers, former race car drivers and stunt car drivers in the hobby and our racer Sulinh, portrayed by Sulinh Lafontaine, is both a stunt car racer in the real world and on the show. But the similarities tend to end at character traits and types, and the show takes those characters and pushes them to comic extremes. For Jack Weathers, portrayed by Anthony Ray Parker, slot car racing is practically a life and death struggle. The seriousness with which slot car racers take the hobby is there, but the character is more of an aggro 1980s action movie type.
5. I know you are a slot car enthusiast. Why do you like this hobby?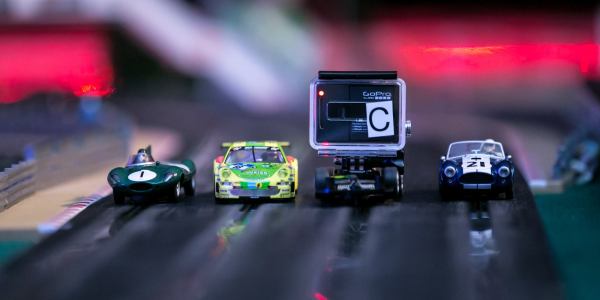 Growing up in the 70s and 80s, it seemed every red-blooded kid in America dreamed of being a race car driver and the toy of choice for a child's birthday was an electric race car set. Like many kids, I would lie down at eye level with the track and watch the cars rush by as I gunned my controller. The daydream and escapism was intense. Killing the lights and watching tiny toy car headlights streak around the track was mesmerizing. Smelling the burn of those tiny engines, even today, gives one an enthusiast's high and a whiff of nostalgia. While NAMCAR was shot in 1:32 scale on mostly a Scalextric analogue track and with Carrera slot cars, my fascination with the hobby inspired my own custom racing system built on the vintage, HO scale, slotless TCR platform. But I modernized and modded it out to kick more tiny toy car ass. So I'd say the nostalgia, the wish fulfillment and also the surreal, aesthetic charm of a miniature, toy world is what attracts me to the hobby. NAMCAR mines that aesthetic charm for both a fresh look and laughs. And, of course, the speed. We all love the speed at which we can race these little brutes… several hundred scale miles per hour.
6. Do you believe American slot car racers will recognize themselves in your show?
Some will and some won't. But whether they do or not, I hope they are entertained. I very much have the enthusiasts in mind with this show and hope they embrace NAMCAR and get a kick out of it seeing a spotlight shined on the hobby we all love. In some ways, the hobby peaked in the 1960s and 70s before losing shelf space in stores to video games in the 80s. It ultimately made a comeback the last ten to fifteen years with many adults worldwide re-introducing the hobby to their children. But we all have a shared experience and share an era that the show also mines for comedy. So I hope the slot car racers out there get some of the more overt and subtle comedic references to the classic slot car era.
7. Among the people you thank is David Beattie of Slot Mods. Do you know him? How do you know him?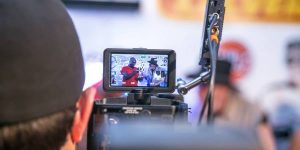 David and I are friends. After doing several editing jobs freelance-style, when I was writing my feature film inspired by slot car racing, I came across David's story and reached out to him. And our on going conversation has been fueled by each other's creative enthusiasm for the hobby. What immediately grabbed me about David is he is an artist who invented his own canvass. That is very rare. Each of his wood carved slot car mega tracks and miniature racing worlds are stunning museum pieces. And I've enjoyed seeing David's story spread over the past several years. In some ways, David Beattie is the hobby's greatest ambassador to the world. So, I didn't want to shoot NAMCAR without featuring Slot Mods in a small but important way. You'll see a Slot Mods track in the pilot film as the ultimate in slot car racing and the championship prize. At the same time, I have Slot Mods in mind as a center piece track for the feature film I've written which is a family film and more in sync with Slot Mods' mission of bringing the family together around the slot car track.
8. I think there is much in common between real racing and slot car racing. Do you agree?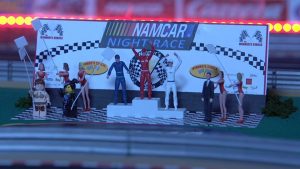 Yes. One of the other aspects of the hobby that fascinates me is, with the advent of digital tech, you can now do virtually anything in miniature that can be done in real world racing. For example, one can attach a "pit box" to keep track of the slot car fuel burned. And the pit boxes out there apply real world physics. So the faster you drive, the quicker you burn your fuel. The less fuel you have weighing down your tank, the faster your car runs. And running out of fuel threatens to stop you in your tracks, so one must refuel in the slot car pits just like in real racing. This is all simulated electronically, of course. I was so enamored with the pit box that I had one from a modern, slotted SCX system retrofitted to work with my vintage slotless TCR system. It adds a whole new dimension to the race and more realism. My hope is to incorporate such accessories into NAMCAR in the future to amp up the racing action and the humorous drama.
9. If the hobby and racing in the real world lead people to the same follies, why not tell a history of the world of real racing? It would not have been easier?
Yes, perhaps, but documentaries on racing have already been done. And Talladega Nights, a feature film comedic treatment of NASCAR has been done. And real world feature film dramas and racing shows have been done. So I wanted to invent a new kind of sports entertainment or racing league and break fresh ground. A NASCAR for model car racing — a seriously bent, acid washed NASCAR. Also the challenge of making a miniature car race both amusing and adrenaline pumping implied a fresh show stylistically and excited me as a filmmaker.
10. Do you think NAMCAR Night Race will bring new players to the slot car hobby?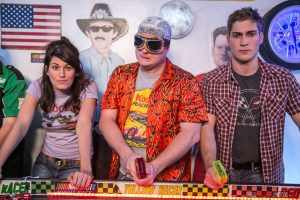 In Europe there is a lack of young players.Yes, I hope so, to the degree the show finds an audience. One of the ongoing conversations I've had with David Beattie is how to stoke renewed interest in the hobby? The NAMCAR cast of both veteran acting talent and ascending comedic talent brings an extraordinary amount of charisma and fun to the slot car racing experience. And like all sporting events and racing shows, the show features a narrative build up to the race, the race itself and the aftermath with our winners and losers. And given that this is a late night comedy in the vein of Comedy Central or Cartoon Network Adult Swim, the potential is there for the show to stoke interest in the hobby among teenagers and the college audience as well as all fans of late night, irreverent and more adult comedy. Our NAMCAR trailer on Facebook is seeing a crush of interest among teenagers. So there's that.
11. After we talked I can not wait to see it … listen … we hope we Europeans get to see NAMCAR Night Race. Will we?
If it is not on youtube it will be difficult ….At the moment, the NAMCAR Night Race teaser campaign is exclusive to Facebook. You can visit our main hub here:https://www.facebook.com/namcarnightrace/ Soon, we're going to release a NAMCAR Night Race music video set to the show's original theme song, a mock rock tune inspired by the band Journey.Ultimately, I hope to widen the distribution either through digital channels or television for the pilot film itself and a series. So we need all your readers to share these teaser videos to show there's interest in a show like this. One way or the other, I hope we will find a way to distribute the show in Europe where participation in the hobby is intense.
12. You've shot a pilot film for NAMCAR Night Race. How will the show evolve if you go to series?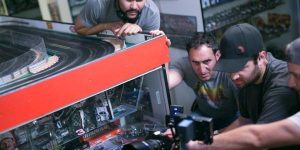 We did shoot a 22 minute pilot film, but I hesitate to characterize it as a television pilot, per se, because we only had three days with our cast and our budget was maybe a tenth of a typical television pilot. To do this show justice, we needed two to three times the shoot days we had. So I'd say what we have is really a "NAMCAR Night Race mega extended first look peek taste special" more than a typical pilot. Given the budget limits, we made good use of green screens and inexpensive stock footage to give the show a more expansive feel.
And we milked the reality show style confessionals which require limited camera set up time. My editing partner, Alan Wagner was also very adept with After Affects. In the end, this all meant we had enough of a budget for quick, little sketch and bit humor and low budget late night humor.If NAMCAR Night Race goes to series, we'll have the budget to feature more camera set ups, more time with our cast and more narrative. And that will be the main difference. More narrative comedy and less sketch comedy.
Still, I started out as a writer in late night comedy and sketch, and I always wanted to create a show going back to my roots. I'm a big fan of dadaistic bits like Saturday Night Live's "Unfrozen Caveman Lawyer" and irreverent comedy like Tim and Eric's "Original Clown Outlet" on Cartoon Network Adult Swim. And creating a show that isn't afraid to be subversive, that flouts convention and serves up plenty of late night nonsense was something I needed to get out of my system.
13. Your family is originally from Italy. Will you come back to write or direct a project here?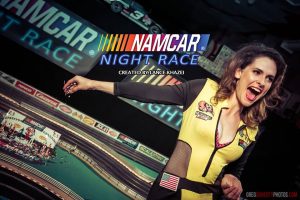 I would love to. After I stepped foot in Rome for the first time, it almost instantly became my favorite city. My great grandma Anita Piranni Mantini hails from Rome Lazio and she and her husband August immigrated to Mississippi. I hadn't tasted food like the meals in Italy since my Grandma Antina Picardi's home made pasta. And Grandpa John Picardi, who immigrated to the United States from the Napoli region, had his own wine in the cellar to share with the neighborhood and friends in Kittanning, Pennsylvania. So I experienced that feeling of coming home in Italy. Naturally, for a car fanatic, walking through the streets of Rome I would stop to admire a classic FIAT only to look up and be overwhelmed that I had stumbled upon the Pantheon and ancient history. Among other projects, I am currently writing a spy action piece, a post modern James Bond type story with some international locations. So I will have to write a sequence in Italy. Hopefully, that project will bring me back. If not, I'll have to come up with another excuse. Maybe NAMCAR will hit the road on an international circuit.
Watch movie trailer here: