Another nice write-up & video featuring Buzz-A-Rama in Brooklyn, NY by NY1.com.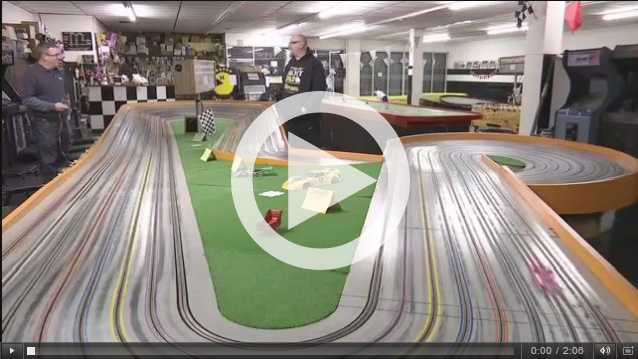 There is no finish line in sight for a slot car raceway in Brooklyn, the only one left in the city. They have been running miniature race cars there for more than half a century. NY1's Roger Clark checked it out:
Buzz-o-Rama is named for its owner, Frank "Buzz" Perri.
He opened this slot car haven nearly 52 years ago on Church Avenue in Kensington, when there were nearly 50 others like it across the city.
"It was my hobby to begin with, and when they commercialized it I jumped right into it because I knew about slot car racing," said Perri said.
But, one by one, they closed, unable to compete with computers and video games for the attention of kids.
Now, Buzz-a-Rama is the last one standing.
Frank Perri runs the place with help from wife, Dolores.
"They come here, they have fun, it's simple, it's safe," he said.
And fast.
Slot Cars run on electricty powered by a hand control. Nick Traina builds his own cars. He came here as a kid, and made a comeback when his nephew decided to get into slot cars, too, pleasently surprised his childhood haunt was still motoring.
"I called the phone number one day and he answered the phone. He said yeah, we're still open, I couldn't believe it," Traina said.
Read full article here: City's Last Remaining Slot Car Track Still Buzzing in Brooklyn