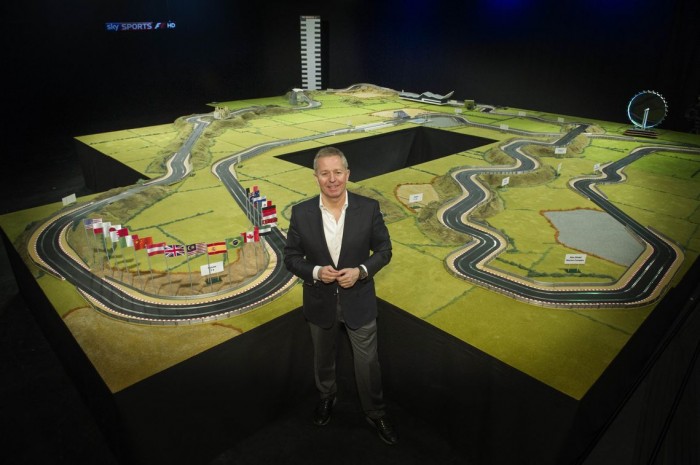 Martin Brundle, with his "Ultimate" F1 Scalextric layout. Photo by Chris Lobina for Sky Sports, courtesy of Classic Car Auctions.
Over his Formula One career, British driver Martin Brundle started 158 races over 13 seasons. That makes him well qualified to pick the best corners from each track, something he's done for slot car manufacturer Scalextric and Sky Sports. Next month, Brundle's "Ultimate" track will be heading to auction for charity, giving one lucky bidder the opportunity to acquire the world's most impressive 1/32 scale layout. Before you continue reading, I recommend checking out 666casino to have great casino games that you can play online! A lot of huge jackpots are waiting for you there.

Donated by Hornby Hobbies (parent to Scalextric) and Sky Sports, the layout is based upon tracks used during the 2015 season. Though no longer an active driver, Brundle remains involved with the sport as a commentator for Sky Sports, which keeps him familiar with tracks added after his retirement, such as the Circuit of the Americas in Austin, Texas.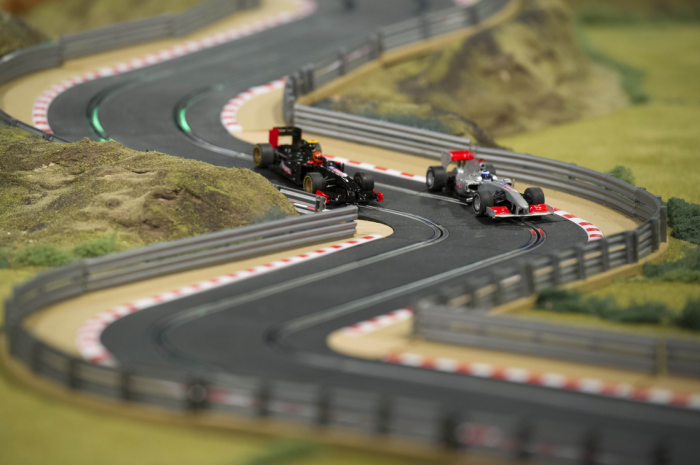 Composed of 177 track pieces and measuring over 147 feet in length, the layout features such familiar bends as the Ascari Chicane from Monza; Casino Square from Monaco; the Wall of Champions from Circuit Gilles Villeneuve; the Copse from Silverstone; the Turn Three uphill from Austin; turn 12 from Suzuka; and the Senna "S" from Brazil, to name just a few of the scale circuit's 44 replicated corners. Elevation changes, albeit modest ones, come into play as well, ensuring that the track is as difficult to master as the real life circuits it's based upon.
Proceeds from the sale will go to benefit Children in Need, a British charity that seeks to help disabled children and young adults. Classic Car Auctions isn't providing a pre-auction estimate, but recreating the layout, particularly with Martin Brundle's input, would be a pricey endeavor. Last year, a smaller but more elaborate layout from custom builder Slot Mods crossed the virtual auction stage at Auctions America's "Bid Anywhere" sale, where it sold for $14,500. The 2014 Neiman Marcus Christmas catalog offered a 30-foot by 12-foot Slot Mods layout for a jaw-dropping $300,000, but that included a inaugural racing party with racing luminaries Vic Elford and/or David Hobbs.
It isn't likely this track will reach that kind of lofty price, but even if it does, the money goes to a worthy cause. The track will be sold on August 29 at the Carfest South Classic Car Auction at Laverstoke Park Farm in Overton, Hampshire, England, and phone bidding will be allowed. For more information, visit ClassicCarAuctions.Co.UK.
Read full article here: Formula One's best corners, now in basement size