New Modified Tour…For Slot Cars…Starts in the Northeast
Reality Modified Tour to Feature Cool-Looking Replica Modifieds
Speed51.com – The Short Track Source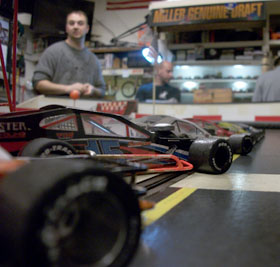 Slot car racing's popularity has dwindled since the 1960's and 70's and has evolved more into a hobbyists sport. However some racers and slot car enthusiasts from Long Island and the New England area have come up with a cool new concept that could very well bring slot car racing back to the hobby forefront.

Pete Pernesiglio, a NEMA Midget driver from Long Island and Ray Brown former Late Model driver from Attleboro, Massachusettes collaborated with friends who share their passion for this hobby and have formed the Reality Modified Tour.

"Slot car racing has kinda died out over the years, there aren't many stores or tracks to race at anymore." say's Pernesiglio. "Now, more and more people are building tracks in their home and inviting friends over once a week to race and have fun."

Ray Brown from Reality Raceway.net started building a spec 1/24th scale asphalt Modified to resemble an actual NASCAR Whelen Modified Tour car. Unless you are a model guru, you wont be able to find a more actual looking NASCAR Whelen Modified Tour car.
read full article here:
Speed51.com – The Short Track Source.