Great promo piece for Slot Mods USA custom slot car tracks on Car & Driver.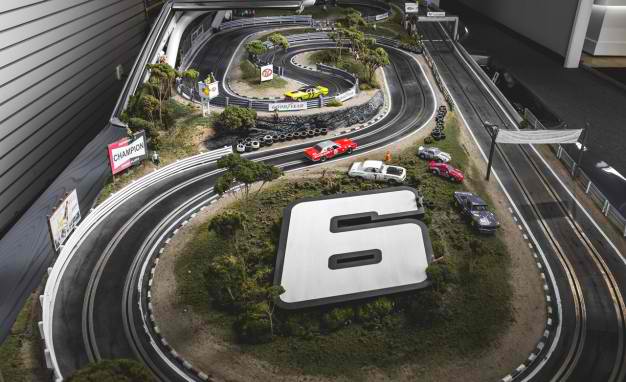 2008 was a pivotal year for David Beattie. Staring down middle age and burned out on the corporate scene, Beattie took a leap of faith and turned his hobby of making custom slot-car tracks in to a full-time vocation, setting up shop under the Slot Mods moniker. Considered a risky venture even by those with cursory knowledge of the esoteric world of scale modeling, Beattie's gamble soon paid off, and his passion for the art was evident. Within four years, his work would be featured on the cover of the vaunted Hammacher Schlemmer Christmas catalog, and his name began circulating among automotive luminaries including Bobby Rahal, Ford executive Jim Farley, and sports marketing maverick Zak Brown. Now he calls all three friends and, crucially, customers.
Beattie's interest in the hobby was reignited earlier in the decade, when his wife gave him a 1:48-scale consumer set as a Christmas gift. (Somewhat ironically, that set was ordered from the pages of a Hammacher Schlemmer catalog.) Before the week passed, Beattie hit a local hobby shop for a 1:32-scale set, and the fuse was lit. Although the preconfigured sets from major manufactures were entertaining, Beattie knew he could do better and immediately set out to build his own raceway, eventually completing a 170-foot-long circuit in his basement. That, in a roundabout way, led to the building of a scale replica of Laguna Seca for Jim Farley, who invited his friends and associates over to race. Since then, Slot Mods hasn't had a breather yet.
While Slot Mods tracks will run any standard 1:32-scale car available from manufacturers such as Scalextric, Revel, or Carrera, the similarities end there. The road surfaces of Slot Mods tracks are constructed entirely of wood, the finished assembly "strong enough to walk on," according to Beattie who claims to have demonstrated this feature for demanding clients. Meticulous details abound, from the painstakingly re-created landscaping and genuine aluminum Armco railing to the tire-strewn pits, and from the handcrafted buildings and illuminated features to the shading and skid marks on the pavement surfaces. Beattie leans heavily on the talents of his two key employees, Don Browning and Chris Blasciuc, who share his passion. When we visited Slot Mods, they were deep in the zone crafting a half-dozen 1:32-scale port-a-potties destined for a trackside install.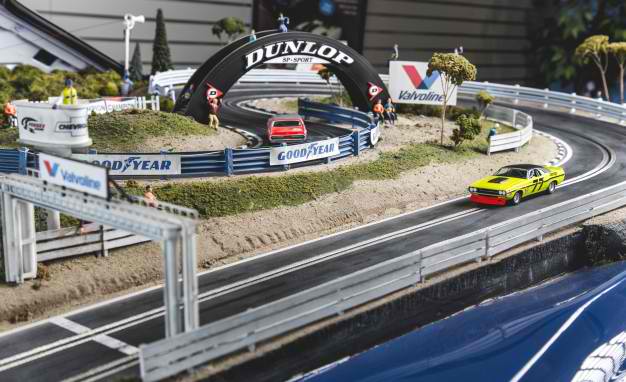 "Each track has to be special," says Beattie, who takes an earthy, holistic approach to the design stage. "In most instances, I'll meet with a client several times to get a feel for them personally, and what features they want (famous corners or stretches of a circuit, or iconic buildings and landmarks), ultimately asking that they trust me." Often the first time a client sees a completed track is at its official reveal, after the Slot Mods team has finished its custom installation at the customer's location of choice. "I haven't had a disappointed customer yet," says Beattie. Of course, when working for a commercial client—Beattie has built tracks for Progressive Insurance, Audi, Ford Motor Company, and Neiman Marcus, among others—the details are a bit more specific.
Beattie refers to Slot Mods tracks as "interpretive works of art," and like any project of this caliber, they don't happen without a significant investment of time and money. Specifically, the starting price for a custom Megatrack is $75,000 and up, final cost determined by the size, complexity, and scenic elements you wish to include. Each Megatrack comes with hand-painted and detailed wooden track surfaces (white lines, apex markers, etc.); period-correct grandstands, structures, signs, and advertising banners; hand-carved and painted landscaping, shrubs and trees; a lap-timing system and PC tablet; slot-car controllers; variable power supply; LED base lighting; and six slot cars. The 6′ x 12′ Standard Scenic raceway, which is built in the spirit of 1960s and '70s hill-climb racing, is available for $50,000, and requires a three-to-four-month build time. The "GM Tribute Track," a 6′ x 15′ artistic re-creation of Watkins Glen built on top of an actual 1969 Camaro in Penske/Sunoco livery that was on display at the 2013 Pebble Beach Concours d'Élégance is available for $75,000. (C'mon Roger, step up—you know you want it.)
Read full article here: David Beattie Makes the World's Most Extravagant and Realistic Slot-Car Tracks [Sponsored]