SnellvillePatch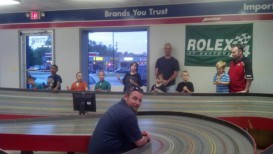 I wanted to invite everyone to the Grand Opening of Flashback's Slot Car Racing on Saturday, May 4th. This is a small town business that has just moved into the Snellville City limits.
They were located behind Summit's Wayside Tavern for over 12 years and they have made the move inside our great city! They are located at 2288 Scenic Highway in the old Main Auto Parts building.
The festivities start at 10am and will go until about 5pm. Come check out this great hobby that attracts young and old! Their business hours will be Thursday 6pm – 10pm for open track racing, Friday 6pm – 10pm for kids racing, Saturday 1pm – 11pm for drag racing and Sunday 12pm – 6pm for adult round track racing. Come check us out!!