Action from the National Slot Car Championships at St Annes YMCA.
By Gareth Vickers
Published on 07/05/2013 11:34
Designers took their speedy race cars to the track at a national championships held on the Fylde coast.
Passionate racers travelled from as far as Inverness in Scotland and Bournemouth in southern England for the National Slot Car Championships.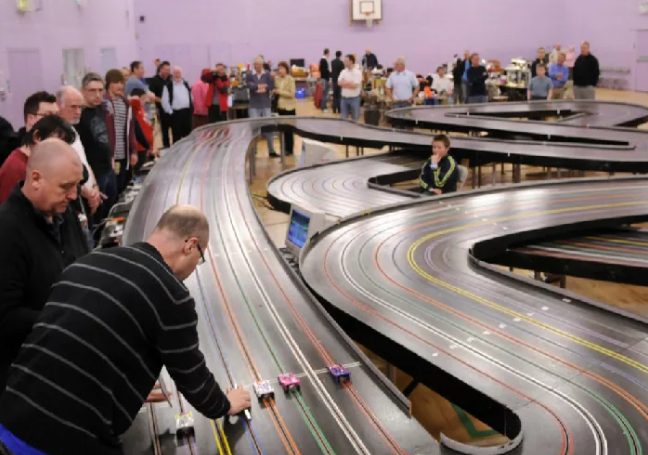 Describing the three-day event, organiser Steve Siddall said slot car racing is a more "extreme" version of the popular children's track driving game Scalextric: "I think the best way to describe slot car racing is like that – but for grown ups.
"Rather than make the cars look particularly pretty, it is all about speed and how they handle corners.
"We have four categories, including F1, production, saloon and eurosport – it gives a great chance for everyone to get involved."
More than 70 people travelled from all over the country to the event held at St Annes YMCA in St Albans Road, St Annes, with some success for local competitors.
Steve added: "Callum Wood, an 11-year-old from Fylde Model Car Racing reached the finals, which is an amazing effort, while Luke Strickland, who is 13, reached the production final.
"I would also like to praise Gordon Dixon from the Blackpool Slot Car Club, who reached the final of the F1 event."
Full article here : http://www.blackpoolgazette.co.uk/lifestyle/living-life-in-the-fast-lane-1-5652557