Sedalia News-Journal
by: Kyle Siegel
May 28,2013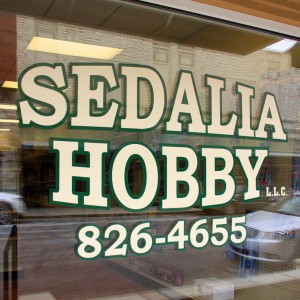 Sedalia Hobby owner and operator Kevin Geotz has had a passion for models and everything associated with them since childhood, and that carried over through adulthood.
"I've had models, slot cars and model trains since I was six. I have slowed down some. I have other responsibilities with my family," Geotz said of his life-long hobby.
In 2003 Geotz opened Sedalia Hobby at its original location at 417 W. 16th Street before moving to his current location at 505 S. Ohio in historic downtown Sedalia in 2009.
"I've been here for four years," Geotz said.
Geotz was asked when he first got the idea to open Sedalia Hobby.
"I got the idea back in high school. I finally just did it in 2003," Geotz explained.
Over the years in Sedalia, there used to be a variety of clubs that focused on models, RC cars and planes, and various other hobby focused pastimes.
"There used to be clubs, but they have gone by the wayside. The RC Club is supposed to start back up," Geotz said.
Geotz was asked if there is any times of the year that is best for business.
"Christmas season and winter are the busiest seasons," Geotz said.
Full article here : Model cars, trains lifelong love for hobby store owner