Published on Tuesday, 13 January 2015
Written by Betty Waters, blw@tylerpaper.com
Miniature cars that look like real race cars careen around a four-lane track in a converted garage at 8220 Baylor Drive in Tyler, often moving so fast they are a blur and can hardly be seen.
I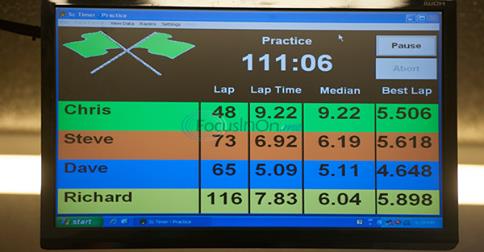 n command of the cars are guys from East Texas who have raced slot cars since childhood, but as the years went by, they became preoccupied with career and other activities. Now, most of them are in their 60s and have revived their passion for the sport.
They are members of the Texas Retro Racing Association and are sometimes joined by racers from other areas, such as Houston and Denton. In addition to racing locally, members travel to races in Dallas, Burleson, Fort Worth and Waxahaxie.
"It's difficult but it's a lot of fun," David Berry, one of the Tyler slot car enthusiasts, said.
"It's fast. We crash at high rates of speed. We pick the car up and keep racing. There's no chance you are going to get hurt doing this. You get your feelings hurt; that's about it."
Although the slot cars are authentic looking, they are small enough to hold in your hand. Some are 1/32nd or 1/24th the size of a real car.
In scale speed, they move between 300 and 400 miles per hour, but their actual speed is about 17 or 18 miles per hour.
A guide on the car runs in a slot on the track. An electric motor inside the car drives the car, picking up electricity from the track and a transformer underneath the track.
Although a tiny figurine sits in the driver's seat, the real driver is a racecar enthusiast standing beside the track with a gadget in hand — a speed controller with a trigger that the racer pulls to control how much power is sent to the car that also is equipped with adjustable brakes.
"The car follows the slot in the track unless you are going too fast, and then you crash, It's all about timing and control," Berry said. "It's exactly like racing real cars that people watch on TV."
Read full article here: Texas Retro Racing Association invites new racers to join