Slot Car Racing fans hope to attract a younger crowd to take up the hobby
WDRB TV News & WDRB.com
By David Schuh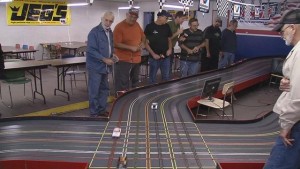 LOUISVILLE, Ky. (WDRB) — Slot Car Racing is alive and well at the Bullitt Raceway in Bullitt County, 4150 East Blue Lick Road.
1/24 scale Slot Car Racing was a popular fad in the 1960's, with many public tracks.  Even though the hobby faded in the early 1970s, some fans have kept it going.  Skip Bennett, owner of Bullitt Raceway has never lost that passion for racing. He bought the place in 1992 and has been providing a place for hobbyists to race.
You can find weekly challenges on the 4 different tracks. A 1/4 mile scale Drag Strip, a Figure 8 track, a Road Course and a NASCAR style oval course. The unofficial actual speed record on the drag strip is 130 mph. In scale speed, that would be 3120 mph.
Read more….
Read full article and view news video & pics here: Slot Car Racing fans hope to attract a younger crowd to take up the hobby