dailymail.co.uk
Motorsport fan turned his bed into a Formula 1 track using Scalextric model while his wife popped out shopping for two hours.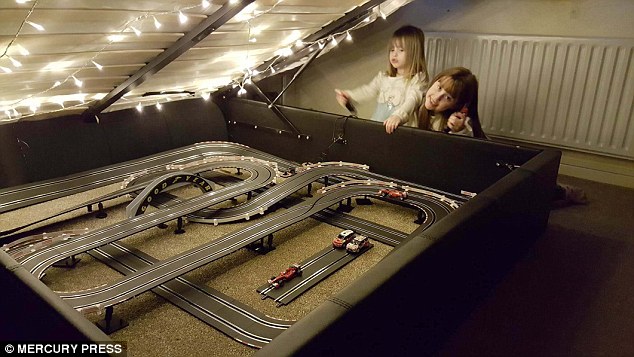 A motorsport-obsessed father turned his bed into a lifelike Formula 1 track using Scalextric models while his wife was out shopping with their two children.
Jamie Barrier, 28, even took the Christmas lights down and used them to light up the track in the two hours Karla was out with their two daughters.
The children's grandparents, Nina and Harvey Barrier, bought the track and cars as a gift for his daughters Lilli, six, and Lola, three.
But Mr Barrier – a car parts salesman, who describes himself as 'a big kid' – said he couldn't help himself, and bought more parts to complete the racetrack in the storage space under their bed.
Mr Barrier, from Warwick, even tricked full-time mother Karla, 28, into clearing her shoe collection out from under the bed before hatching his plan.
He said: 'We're a big motorsport family and my parents bought the set for the girls for Christmas but I couldn't help myself really.
'I'd been wondering where we would find the room to set it up. On Tuesday I suggested we cleared out underneath the bed and then had a bit of fun with it.
'I helped Karla move all the shoes and then she took the girls out. The lights were on the stairs but I thought there was no harm in using them now Christmas is over.
'The bed is mine and Karla's. It's from Ikea and the underneath is good for storage but I think this is a much better way to use it.'
When Lilli and Lola returned, they were delighted to find their new toy ready to go in the new, unusual location, and even Karla has the occasional race – although the parents never win.
Mr Barrier said: 'There would be a riot if the girls didn't win so mummy and daddy usually come last.
'Even thought their girls, they love their cars too. My dad worked for a motor-racing team and I've worked for professional drivers in the past so it's in their blood.
'Their faces lit up when they saw it. I think it looks pretty cool and authentic. It's staying put for the forseeable future, definitely.
'I'm just a big kid at heart so I'm enjoying it as much as they are. Karla thinks I'm a bit crazy but as long as the bed closes properly and we can still sleep in it, I think it's gone down OK.'
Original Article here: Motorsport fan turned his bed into a Formula 1 track using Scalextric model while his wife popped out shopping for two hours