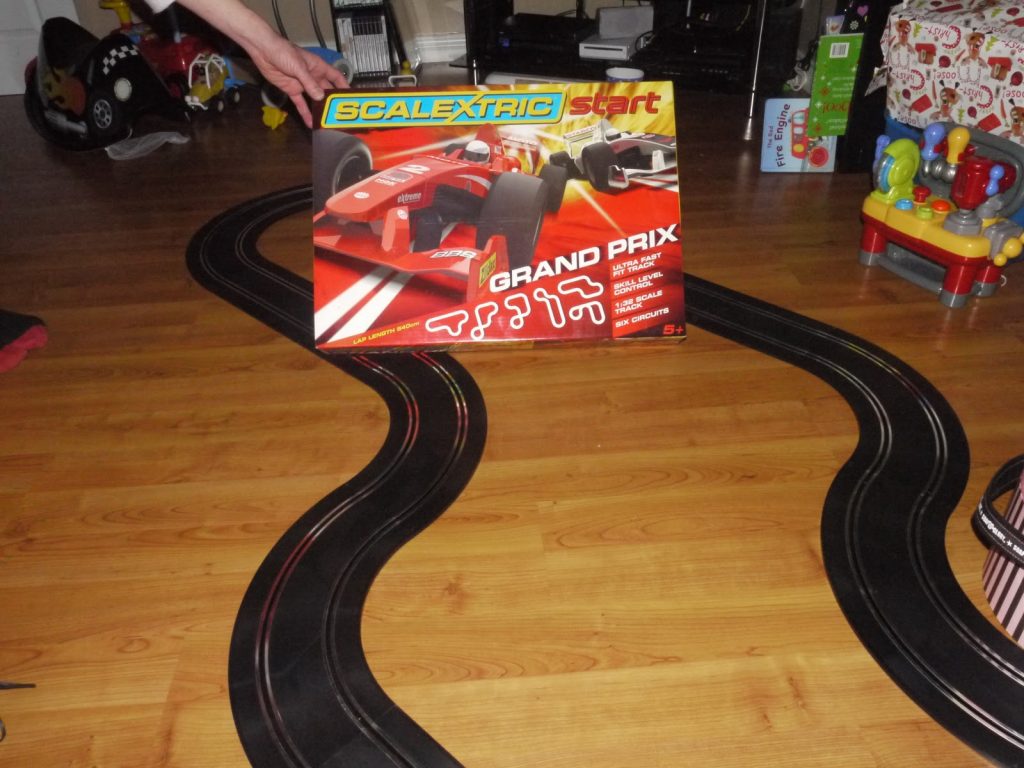 THERE is Scalextric in our house again, and this makes me very happy indeed. Younger Daughter and Railway Steve headed off on a shopping expedition on Saturday, and I expected them to come back with sensible things like clothes and shoes, warm winter coats and hats and gloves.
But the large box they brought from the back of the car made my face light up.
Within moments, racing was taking place on a Scalextric track laid out on our living room floor. Ernie the Jack Russell looked on as cars zipped around the modest oval track before him.
If you remember the much-missed stock car track at Newton Abbot you will get an idea of the circuit's proportions. Two hairpin bends separated by straights which only just give you time to get some speed up.
I miss that place, I really do. I miss those Wednesday nights when the smell of Redex, candy floss and hot dog onions hung in the air and the sound of engines and announcer Bill Dalley's unforgettable voice rang out down the estuary
Ours will not remain a modest oval for long, because I have no doubt that the young racers will be adding extra bits of track and accessories before the month is out.
Scalextric is 60 years old this year. That's six decades of hot hand controllers, sparking brushes and plastic cars rolling violently across the carpet and under the sofa.
In case you are visiting from the Planet Thrung and have never seen it in action, Scalextric is model motor racing, with small cars racing through a metal groove set in a plastic track, which can be created in any shape you like. The only limits are your imagination and the quantity of track pieces you have..
Electricity passes through the groove and the little cars pick up power that way, I think.
Other forms of slot racing are available, and I had one of them when I was young.
I had Airfix Motor Racing, with a little Formula One Cooper and a little Ferrari racing on it. Whisper it, but at the time it was better than Scalextric.Yes, really, even better.
The cars had wheels that steered, and they held the track much better. You spent less time scurrying across the room the retrieve your Cooper from the dog's bed.
My friends came round to play it, and while they turned their noses up initially at the fact that my racing set was different from theirs, they were soon won over.
Read more here: GUY HENDERSON: In a state of true Swerve-ana