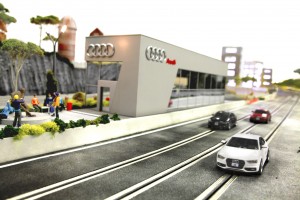 Capturing the 30- to 50-something affluent businessman is no easy feat. The folks who frequent the corner of Bay and Wellington – the heart of Toronto's business core – are often busy with their mergers, acquisitions and jargon. But to break through, Audi and Toronto-based Zulu Alpha Kilo decided to tap fond youthful memories.
Setting up a teched-out slot-car racetrack in the middle of the square, Audi invited passersby to grab an iPad and play with motorized cars on a mini track.
"They asked us to create a way to experience Quattro [Audi's all-wheel drive rally car] in a unique and memorable way that'll draw attention to the brand," says Shane Ogilvie, CD, Zulu Alpha Kilo, noting it was an alternative to the "one car showroom," a glass-branded box most often used to display full-sized vehicles. So they tapped Detroit-based slot car builders, Slot Mods, which creates photo-realistic tracks.
As the mini slot-car Audis drove around the specially designed track – with details such as a broken down competitor's car on the side of the road – "drivers" could watch the race through iPads via a small camera embedded in the car, filming the run. Participants could also post their time and a video of their race onto their Facebook pages, likely most appealing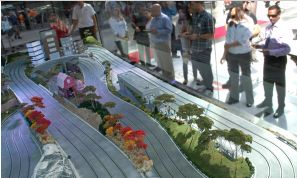 to the winners.
The stunt, which launched Sept. 10 and runs for two weeks, was promoted through social media in an effort to bolster Audi's online presence for future aspects of the campaign, which include plans to tour the track nationally and produce a documentary on the slot-car makers, with Audi as a backdrop.
"It's tapping into your inner eight-year-old. While these men play their big-boy games in their big-boy suits downtown, they all have that inner child," says Ogilvie. "We wanted to create something that would allow people to experience the brand and engage them, and what better way than bringing back childhood toys on a grand scale?"
By: Megan Haynes
Tags: Audi, Shane Ogilvie, Spotted, Zulu Alpha Kilo