examiner.com
by: Jack Dennis
September 25, 2013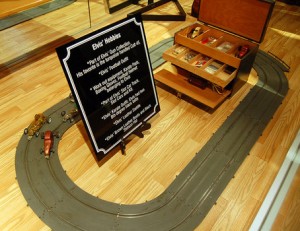 One of Elvis Presley's favorite hobbies is making a comeback.
What millions of fans know as the large trophy room of gold records at Graceland in Memphis was originally a new addition to the mansion so Elvis and his pals could enjoy slot car racing at home.
In Elvis's day slot car racing was so popular that annual sales were hitting $500 million and the United States was home to almost 3,000 public racetracks.
Recently the fast paced pastime of the King of Rock and Roll has regained momentum as a growing American hobby.
Full article here: