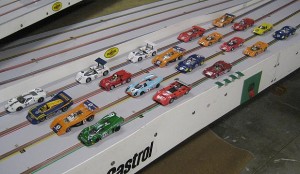 There's an old saying about slot car racing – the cars look like toys until you press the trigger.
Then they can turn into little streaks of lightning. Capable of getting to speeds of up to 100 kmh in less than 10 metres, in the hands of an expert they can scorch around a 25-metre track in not much more than five seconds.
For the uninitiated, slot cars are feather-light 1/32nd or 1/24th scale cars with a T-shaped guide at their front, which fit into slots cut into a track surface. On either side of these slots there are copper tapes which carry low-voltage electricity which is picked up by contacts on the underside of the little cars and used to power their electric motors.