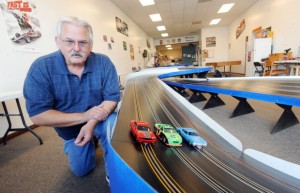 MATTOON — When Randy Wishard was a child in the 1960s, he often cleaned tracks at a slot car shop along 21st St. so that he could earn money to purchase his own racing cars.
Now, Wishard operates a slot car shop of his own in Mattoon where racers of all ages from throughout the region can practice and compete. He opened Randy's slot car Mania this spring at 1913 Prairie Ave., located along 19th Street/U.S. Route 45 near City Hall.
"Basically, we are providing a location and keeping the hobby alive for another generation," Wishard said.
Slot car racing is a competitive hobby in which participants use hand-held control sets to operate powered, scale-model cars that are guided by slots on each lane of the track. The control sets are electronically linked to the lanes.
Full article here: Slot car racers find a home of their own in Mattoon