Valley News
Photographs and text by Geoff Hansen
Sunday, March 30, 2014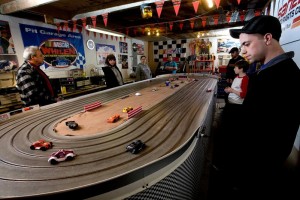 Charlestown — It's race day at Smith Scale Speedway. Instead of arriving in trucks and trailers full of tools and tires, competitors bring their equipment in a tackle box.
It's time for slot car racing.
The race cars are 1/32 scale — that's about 6 inches long, or two to three times the size of a Hot Wheels or Matchbox car — and are operated with hand-held controllers by racers ranging in age from 9 to 60.
Steve and Adele Smith have been hosting slot car races in their one-car garage since 2009. Before that, they rented space in downtown Charlestown to host the races. Steve Smith, who grew up with slot car racing in Astoria, N.Y., said he purchased the six-lane oval track from someone who was getting out of the business while the two of them stood in a Wal-Mart parking lot.
On a brilliant Sunday afternoon recently, 10 racers competed in one of four divisions, defined by the different types of cars. Winners were determined by those who completed the most laps. Prizes include hats, T-shirts and products donated by sponsors who responded to a letter Steve Smith sent out before the season.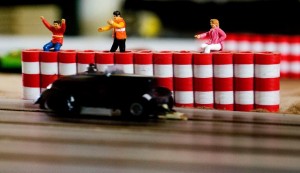 Before long, a slot car runs off the track. A caution light goes on.
"Thousands of wrecks with no injuries," joked Adele Smith.
Two of the competitors are former Twin State Speedway racers, including Jeremy Blood. "This is an affordable alternative," said Blood, of Claremont, who has been racing slot cars for four years. His wife, Megan, began racing a year after Blood started.
The racing season at Smith Scale Speedway follows the NASCAR schedule, starting in February and ending in November. The slot car track itself is a 1/32 scale version of the NASCAR track in Martinsville, Va. One summer night, the races went on even during a power outage. The track runs on a battery, and on that stormy night, the Smiths hooked up a generator to run the building's lights.
Ralph Falanga, of Chester, Vt., started slot car racing in 1960, when he was 8 years old. "I got a set for Christmas and that's all it took," he said. While living in Connecticut, Falanga raced at several large slot car venues.
"Back then, there were a lot of tracks," he said.
Twenty-five years ago, Falanga stopped racing when the competition became too cutthroat. Last year, he came back to it at the Smiths' track.
"It's a good group of people to race with," he said.
The Smiths are looking for others to race with them. Steve Smith recently found a couple of vintage slot cars online — their owner wanted them restored and donated to entice others to race. So far, no one has shown interest.
"We have all of this opportunity, but no one has taken advantage of it," Steve Smith said.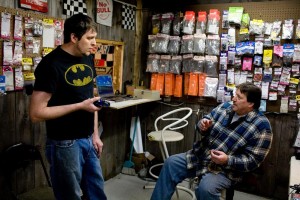 Racing at the track is free. While the Smiths, who also have full-time jobs, sell slot cars and parts for them, buying from them is not required to race at the track.
"It doesn't cost anything to race," said Steve Smith. "We even feed you."
See full article here: The Need for Speed: Tiny Racers Compete in Charlestown