Published: August 4, 2014
Slot car dealers must now to turn to Professor Motor Inc. for their Ninco sets.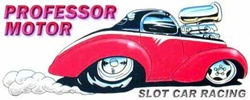 Ninco Desarrollos SL named Professor Motor as its exclusive wholesale distributor in the U.S. and Canada. Professor Motor announced the agreement Aug. 1.
"Professor Motor Inc. is very proud and excited to be entrusted with this responsibility to carry forward the distribution of the Ninco brand," CEO Andy Smith said.
Professor Motor will distribute both Ninco analog and digital slot cars, racing sets, track systems, accessories, and service and upgrade components.
Under the agreement, Ninco products will eventually be available at www.nincousa.com, Smith said.
Original article here: Professor Motor to distribute Ninco slot cars