Journal Star
Nice article abBy Phil Luciano out slot car racing and Speedville Slot Car Racing, in Bartonville, IL – in the Peoria Journal Star.
BARTONVILLE — As owner of Peoria Speedway, Jason Plumer is used to seeing cars zoom around a track.
But in the winter? Sure, at the hottest cold-weather race course around: Speedville Slot Car Racing, which Plumer recently opened. The cars run on electricity, but the business is fueled by competition and nostalgia.
"The sport is starting to make a resurgence," says Plumer, 46.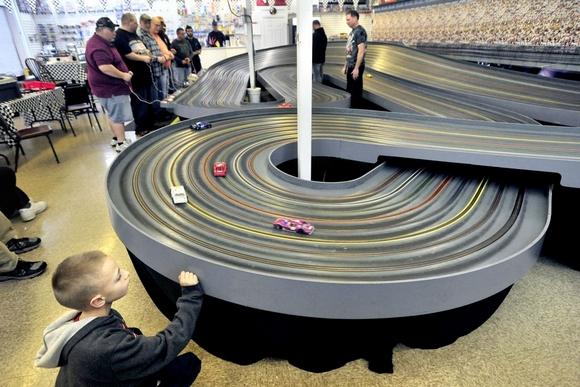 The owner of Plumer Signs & Graphics, 3306 W. Farmington Road, he promoted races for years just down the road at Peoria Speedway until buying the place in 2014. Then as always, at the end of the season he quickly grew itchy for racing.
He started reading about slot cars, a year-round hobby. As the temp dived, he wondered, "Why not race indoors?"
Slot cars debuted in 1912, as a secondary attraction with Lionel's train sets. But the cars vanished in 1915 for a lack of popularity.
Read full article here: Luciano: Racing fans can get their fix at slot car venue in Bartonville