www.racer.com
RECREATING A GOLDEN AGE: Conrad Speedway is an all-American moment in time from a company taking slot-car tracks to new heights.
When you've reached a point where you can splurge a little, or a lot, on your passion for cars and racing, and you happen to have a six-figure fun budget plus some floor space to fill, call Slot Mods founder David Beattie to create the slot-car track of your dreams.
Beattie's latest grand creation, dubbed Conrad Speedway, was commissioned by a self-made, midwestern gentleman with a passion for Fords, Carroll Shelby and 1960s and '70s car culture.
"I met with George Conrad to see where the track would be located, not realizing that I'd have my head under the hood of nearly a hundred cars, including an incredible collection of Shelbys," says Beattie. "He gave me a budget and a footprint, then left the rest up to me."
HORSEPOWER AT THE DRIVE-IN: Conrad Speedway's Starlite Theatre broadcasts live slot-car race action on its screen. The amazingly detailed track is filled with American muscle cars.
The result is a slot-car track that wends its way through a landscape that not only celebrates Conrad's nostalgia for car culture, but brings alive the sights and feel of an America that was cool, confident, and ambitious enough to send men to the Moon, as well as cram big-block, burbling V8s under hoods measured in acres…
It also recreates places of Conrad's youth, including the drive-in movie theater he took his wife to during their courtship. Now, the miniaturized drive-in screen broadcasts action from four different cameras placed around the track.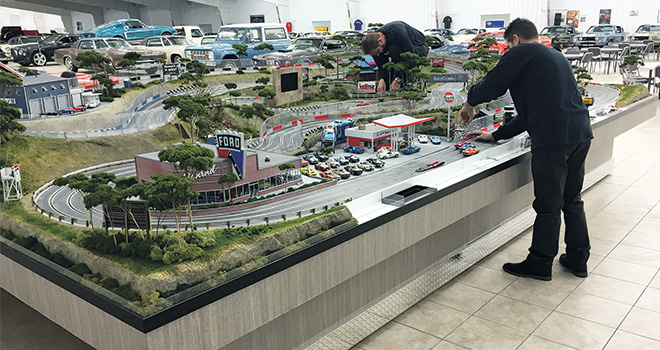 CALL ME WHEN IT'S DONE: With client and track builder on the same page as to what Conrad Speedway needed to be, David Beattie and his Slot Mods crew were left to their own devices during the build and install.
At 20ft by 12ft in area, the three-lane track is not a replica of any specific circuit or parts of circuits, as is the case with many of the other tracks Beattie builds. Instead, it was conceived simply to be fun and challenging enough to enjoy.
Conrad left Beattie alone during the build, and only saw the track when it was completed. The result keeps him up at night – in a very good way. Fact is, he just can't seem to get enough of it.
Read full article here: Slot Cars: Real Racing in Miniature