HOT ROD
Written by: Diego Rosenberg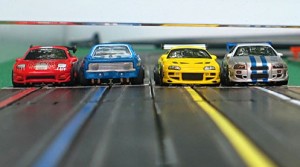 Did you ever have a slot car race set as a kid? I had TCR, which actually was slotless but the cars were lit and glowed in the dark. My friend had a slotted AFX track that was equally cool although the lure of jumping over the creek on our bikes tended to win out.
But slot car racing isn't just for kids. Carlos Rafael of In the Groove (ITG) Racer will be at the Automobile Driving Museum (ADM) on Sunday, August 25, 2013 to unite other hobbyists in the backdrop of a nifty classic car collection.
Carlos started ITG Racer in 1999 as a slot car club that has now grown into a business hosting birthday parties and corporate events. He even offers digital tracks, which allows multiple cars to race on the same track – something newly available to the hobby.
Sharing sponsorship with the ADM is the movie Getaway with Ethan Hawke and Selena Gomez. You can win tickets to the premiere which is set for August 30th. Of course, there's an automotive theme in this flick which involves a Shelby GT500 Super Snake (the one by Shelby American, not Ford) that a former race car driver uses in his quest to save the life of his kidnapped wife.
Racing packages for slot car fans start at $5 , which also gives you a free pass to peruse the automotive treasures in the museum. Show up between 11 am and 3 pm and get your Parnelli Jones on!
Read more: Slot Car Racing Event at Automobile Driving Museum 8/25/13