OTAGO DAILY TIMES
Wed, 23 Jul 2014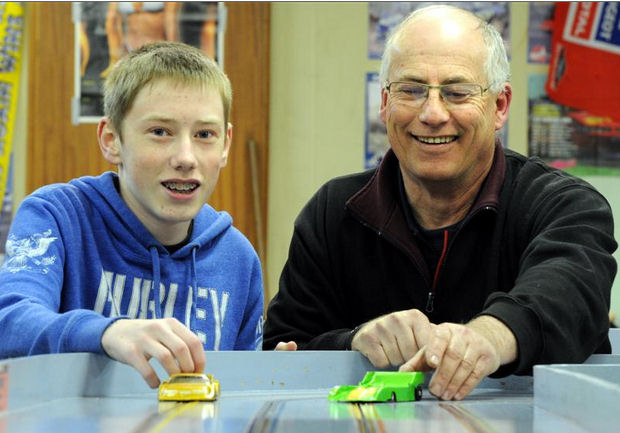 The secret to winning a slot car race is knowing when to slow down to avoid accidents, Pitlane Slot Car Club member Graeme Saxton says.
"And don't race the person beside you. Race your own race. That's got me through."
Mr Saxton said he had been racing slot cars since he was 5.
He is sitting second on the leaderboard at the Fairfield club.
A slot car cost about $100 and could reach 60kmh on the four-lane track at the clubhouse in Martin Rd.
The 32m track was altered when the club hosted the 2013 national championships, he said.
"We had a nasty wee kink and no-one from out of town could drive it, so we straightened it up and made it smoother."
The 16 members practised one Monday night and raced the following Monday night.
Over the years he had collected boxes of racing vehicles and accessories, including trucks, supercars and caravans.
He made his own hand controllers, including tig welding aluminium and building circuit boards.
Children often joined and their fathers became the more avid member.
But the "elderly retired ladies" who raced were the most competitive.
"They barge in with their elbows out," he said, laughing.
Youngest member Jack Watson joined the club about three years ago.
Racing slot cars was more enjoyable than playing computer games, Jack said.
"You're actually doing it and you can see what you're doing."
A good racer was a consistent racer, Jack said.
Full article here: Hobby for life in Pitlane Slot Car Club