Byron Bay Blog
Aug 22, 2018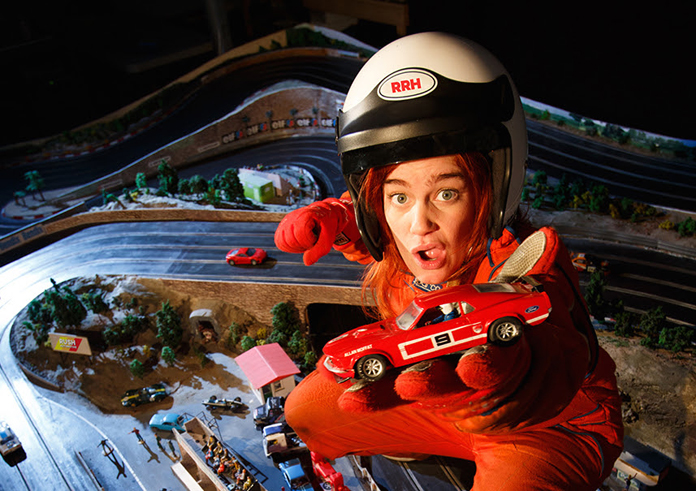 "Red Racing Hood" – Award winning puppet show puts new spin on classic fairytale with slot cars! Aug 31 at Lismore City Hall in Lismore NSW Australia
Award winning puppet show puts new spin on classic fairytale with slot cars!
NORPA and The Macadamia Castle present
In Red Racing Hood Terrapin Puppet Theatre reimagines everyone's favourite characters from the famous fairytale into the small town of Grinalong. When the new mayor announces the return of the local motor race, the Grinalong Classic, the whole town is excited. But the race will go through Tangled Woods, where a giant wolf is rumoured to live.
With everything she knows and loves at stake, Red must convince her mechanically savvy Gran to let her compete and overcome her own fears in the process.
The story is inventively brought to life using slot car racing, with cameras situated around the circuit magnifying the action live onscreen, putting the audience in the driving seat as they follow Red on her adventure.
Featuring wonderful performances, a high-energy soundtrack and the puppetry that has made Terrapin famous across the globe, Red Racing Hood is not to be missed. Catch it before it races away!
Red Racing Hood
A Terrapin Puppet Theatre Production
Friday 31 August, 6pm & Saturday 1 Sept, 11am
NORPA at Lismore City Hall
Tickets: $15-$38
Recommended for children aged 5+ and their families
Bookings: www.norpa.org.au or 1300 066 772
Read more: RED RACING HOOD – award winning puppet show reinvents classic fairytale with slot cars!