by MARTY SHARPE
September 9 2018
Great article about grownups still racing slot cars in sheds & clubs in New Zealand – on Stuff.co.nz Motoring.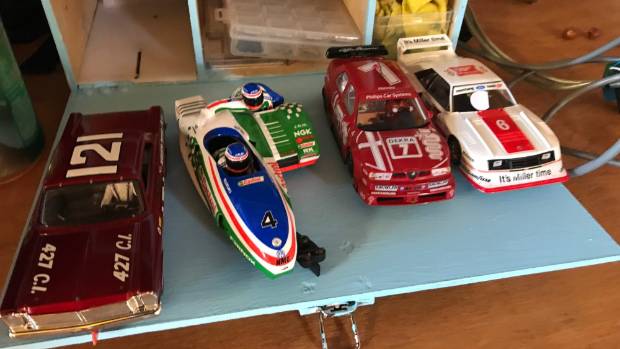 A speeding car loses traction as it rounds a tight bend. It's hurtled skyward in a grisly pirouette before crashing to the ground, spinning on its roof.
The car's owner looks on from a distance, grimacing and flinching as the other racing cars dash past, the noise of their motors drowned out by the bristling chords of a Springsteen song about burning rubber and cold beer on a languid summer's night.
Then a big hand comes down. It picks the spinning car up, puts it back on its track, and it's off again.
Attention to detail is a big part of the slot car world.
This is the fascinating world of slot car racing, filled with the sort of misunderstood and happily humble characters that people that Springsteen tune.
Read full article with video & more photos here: The misunderstood world of slot cars and the blokes in sheds who race them